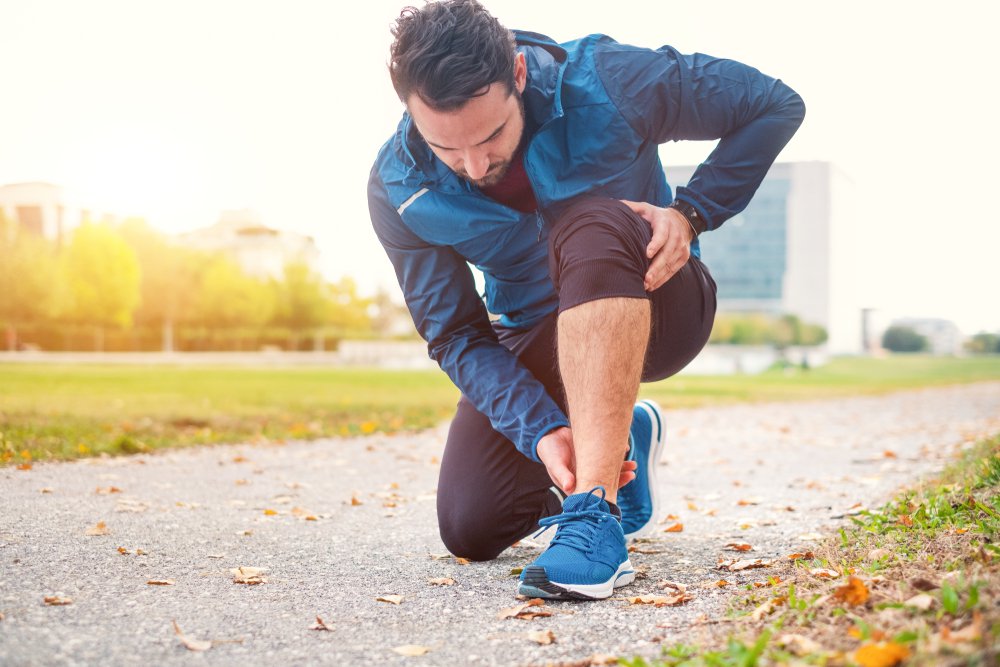 At Northern Illinois Foot & Ankle Specialists in Chicago, we know that your mobility is crucial to maintaining a high quality of life. One common barrier to achieving that is ankle pain. It can be frustrating and even debilitating, limiting your ability to move freely and enjoy daily activities.
Understanding the cause of this pain is often the first step of an effective treatment plan. In this blog post, we will delve into the most common causes of ankle pain and talk to Dr. Michael Lacey, who practices at our Geneva  and Hoffman Estates offices, to get insights that can help you take the necessary steps to regain your mobility and return to your normal, pain-free life.
As Chicago's trusted foot and ankle specialists, we are committed to guiding you through this journey toward improved foot health.
Understanding Ankle Anatomy
The ankle joint is a complex structure composed of bones, ligaments, and tendons, all working together to provide the mobility and stability necessary for walking, running, and other movements.
Firstly, let's talk about the three main ankle bones: the tibia, the fibula, and the talus. The tibia and fibula are the two lower leg bones that form a bracket around the talus bone, which is the actual ankle bone. Together, these bones form the ankle joint, allowing for the up-and-down movement of the foot.
Next are the ligaments, which are the tough bands of tissue that connect bones. The ankle ligaments play a pivotal role in maintaining joint stability. They help prevent excessive movement, protecting it from ankle injuries.
Lastly, we have the tendons. Tendons are fibrous cords that connect muscles to bones, enabling movement. In the ankle, key tendons include the Achilles tendon—the largest in the body—which connects the calf muscles to the heel bone, allowing for walking and running.
Common Types of Ankle Pain
Understanding the basic anatomy of the ankle underpins the knowledge of different types of ankle pain that people generally experience. These types can be broadly categorized based on the severity and duration of the pain, as well as the specific area of the ankle affected.
Acute Ankle Pain: This is usually the result of a sudden injury, such as a sprain, strain, or fracture. This type of pain is intense and occurs immediately after the injury. Common symptoms of acute ankle pain include sharp, sudden pain, swelling, and difficulty in moving the ankle.
Chronic Ankle Pain: On the other hand, chronic ankle pain develops over time and is typically the result of long-standing conditions or damage to the ankle. Conditions such as arthritis, tendonitis, or nerve damage often lead to chronic pain. This type of pain is persistent and may be accompanied by symptoms like stiffness, inflammation, and limited range of motion.
Ankle pain can also be classified based on the specific area of the ankle that is affected.
Anterior Ankle Pain: This is pain located at the front of the ankle. Sometimes referred to as shin splints, which can be helped with orthotics.
Posterior Ankle Pain: This type of pain is present at the back of the ankle. Usually, issues with the Achilles tendon or heel spurs are the problem.
Medial Ankle Pain: This is pain on the inside of the ankle. Often caused by flat feet and low arches, resulting in a tired feeling.
Lateral Ankle Pain: This refers to pain on the outside of the ankle. It's most commonly associated with twists and turns, like stepping off a curb.
Dr. Lacey says, 'It's crucial to correctly identify the type and location of a patient's ankle pain. This allows us to not only accurately diagnose the condition, but also create a targeted treatment plan that addresses the underlying issue.'
Causes of Acute Ankle Pain
Acute ankle pain is often the result of an immediate injury or trauma to the ankle. There are several types of injuries that can cause this kind of short-term pain, each with its own set of symptoms.
Ankle Sprain: Ankle sprains are one of the most common causes of acute ankle pain. They happen when the ligaments that support the ankle stretch or tear, usually as a result of twisting or rolling the ankle in an awkward way. Common symptoms of a sprained ankle include pain, swelling, and bruising.
High Ankle Sprain: This type of sprain, also known as a syndesmotic sprain, occurs when the ligaments above the ankle joint that connect the two leg bones (tibia and fibula) are damaged. High ankle sprains often result from a twisting or rotation motion, and they can cause severe pain and prolonged recovery time.
Ankle Fracture: Ankle fractures refer to breaks in one or more of the bones that make up the ankle joint. The severity and location of an ankle fracture can vary greatly. For example, a lateral malleolus fracture is a break in the fibula—the smaller of the two leg bones—near the ankle. A bimalleolar ankle fracture, on the other hand, involves breaks in both the tibia and fibula and can be quite severe. Symptoms of a broken ankle can include intense pain, swelling, bruising, and an inability to put weight on the affected foot.
If you think you've sprained or broken your ankle, Dr. Lacey suggests seeking immediate medical attention. 'This is especially important if you experience severe pain, swelling, or difficulty moving your ankle,' he says. 'Early intervention can help prevent further damage, getting you back on your feet faster.'
Causes of Chronic Ankle Pain
Chronic ankle pain often stems from conditions that develop over time or from recurrent injury to the ankle. Let's look at a few such conditions:
Arthritis: Arthritis in the ankle is a common cause of chronic pain and usually develops as a result of wear and tear over the years. It may also occur following a severe ankle sprain. The arthritis can lead to inflammation of the joint, causing persistent pain, stiffness, and a reduced range of motion.
Tendinitis: Tendinitis is an inflammation or irritation of the tendons in the ankle. This condition often results from overuse or repeated strain on the tendons, such as can occur in athletes or individuals with physically demanding occupations. Tendinitis can cause pain and swelling and restrict your ability to move your ankle fully.
Chronic Ankle Sprain: Chronic ankle sprains are usually the result of an injured ankle not healing properly or being re-injured frequently. Over time, repeated sprains can lead to long-term problems, including chronic pain, instability, and arthritis.
Considering these conditions, it's easy to see how important it is to properly treat an injured ankle, even when the injury seems minor. Dr. Lacey explains, 'A severe sprain, for example, can lead to chronic ankle sprains if not correctly treated. This is why it's best to seek medical attention for any ankle injury, no matter how small.'
Prevention and Treatment
Preventing ankle pain often involves taking steps to avoid injuries and maintaining good ankle health. Regular exercise can strengthen the muscles that support your ankle and improve flexibility. Wearing supportive shoes and being careful when walking or running on uneven surfaces can also help prevent ankle sprains and other injuries. For athletes, proper training techniques and equipment are essential to avoid overuse injuries that could lead to tendinitis or chronic sprains.
If you're experiencing acute ankle pain, immediate home remedies like the RICE protocol—Rest, Ice, Compression, and Elevation—can help manage your symptoms. Over-the-counter pain relievers and anti-inflammatories can also provide temporary relief. However, for severe injuries such as fractures or high ankle sprains, it's important to seek immediate medical attention.
For chronic ankle pain, treatments may include physical therapy, prescription medications, or in some cases, surgery. Physical therapy can help strengthen your ankle, improve flexibility, and teach you how to prevent further injury. If these treatments are not effective, or if your pain is caused by a condition like arthritis, your doctor may recommend surgery to repair or replace the damaged joint.
At Northern Illinois Foot & Ankle Specialists, we're dedicated to helping our patients find relief from both acute and chronic ankle pain. Our team of experts can provide a comprehensive evaluation to identify the root cause of your pain and develop a personalized treatment plan. We offer a range of services, from conservative treatments and physical therapy to advanced surgical options. If you're suffering from ankle pain, don't hesitate to get in touch with us to explore the best treatment options for your condition.
Get the best podiatric care in Chicago, IL at Northern Illinois Foot & Ankle Specialists! Schedule your appointment online  today; we look forward to seeing you!